--------------------------------------------------------------
Welcome back to our new Digi Choosday Challenge!
oOo--oOo--oOo
It's Digi Choosday again!
Your Special discount code is
30JULY
This will save you a HUGE
30% off
selected digital stamps and bundle downloads*
(may not include some bundles)
(* on
selected downloads)
Just enter the code in the shop
HERE....
*(not valid in conjunction with any other offer, applies to certain products only, if your discount does not show in the cart it is not valid for that product)
oOo--oOo--oOo
As always, this week's challenge is
ANYTHING GOES
Make anything you like, You can use any products you like to enter.
We don't have many rules but check them out in the top bar if you need to.
CLOSING DATE :17th 2018
PRIZE: The random winner (chosen by Random.org) will receive a voucher for 3 digi downloads of your choice from the digi store!
NEW RUBY DIGI RELEASE:
Don't forget to check out all our latest releases in store - we have new Clear Polymer Stamps, Chipboard Fairy Door kits, paper kits and tons and tons of new digis - go check them out!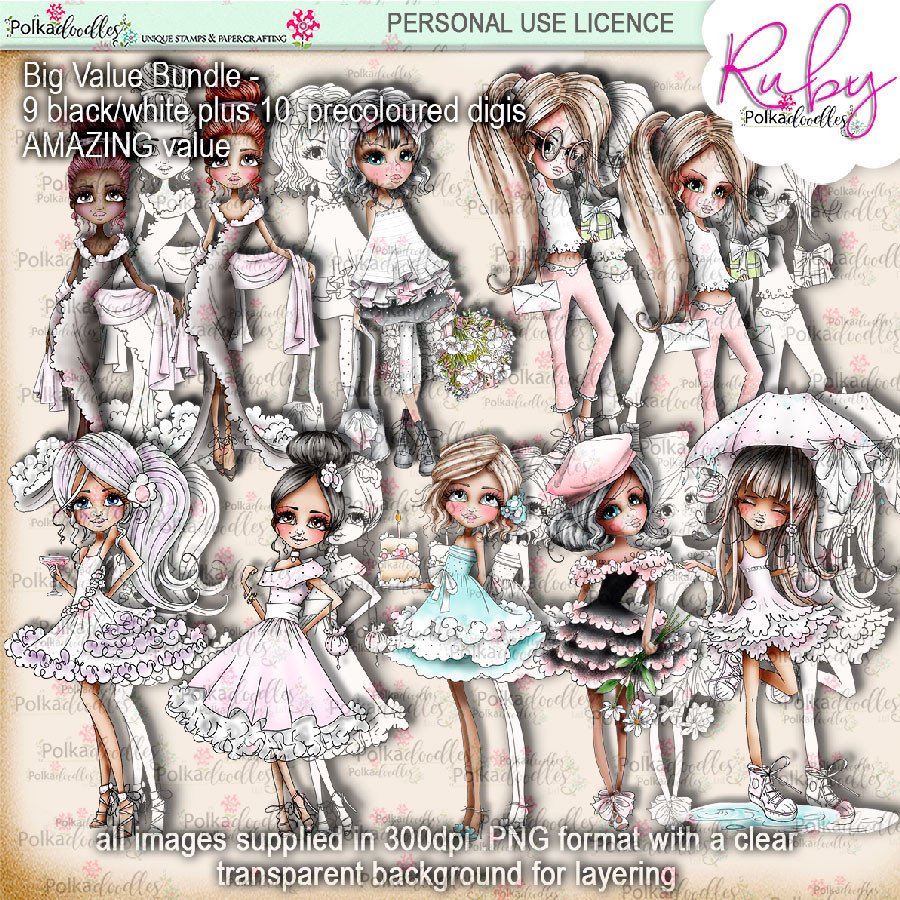 GUEST DESIGN TEAM/ YouTUBE TEAM...??
We are looking for anyone who would like to be considered for a Guest Designer position with the team over the next few months.
YouTube - We are looking for anyone who is a YouTube addict and posts videos regularly to be part of our YouTube team on an ongoing, permanent basis. Please email us HERE with your channel links and links to videos you have posted in the past 2 months and why you'd like to be on the team!
Guest Designer - This would be for an 8 week term and a total of 4 projects, starting in June. You must have a blog and be willing and able to share your work across social media. If you'd like to apply please let us know by email HERE, including a short bio and links to your Facebook profile and Blog URL so we can see your work.... Please title your email 'Digi Choosday GDT

.
So lets see what our Design Team have made this week....
Cara
- This week I chose to use the super sweet
Serenity Dancing
from the
Serenity Fairy Wishes Bundle
. The papers and the sentiment are from the same collection.
Liz
- today I want to share a super cute little set, a card with a matching gift carton for sweet treats!
Jane P
- For my Things with Wings this week I used the
Lavender Tea Collection
....I just love the lush colors and the images in this collection. Added a bit of glittered Mod Podge to give my butterflies a bit of shine.
Katrina
~ When I saw the theme for the team this week, Things with Wings, I couldn't resist flying over to the Pre-Historic
Sticks & Bones Bundle
! This bundle is packed with cuteness!
Rose
- hello, it's a very exciting theme for this week. Today, I am using the image and papers from
Work-Play-9-Love-Kisses kit
. Love this kit collection it is so versatile. For a change I am using a pre-colored digital image, with raw twine and white fringe lace.
Great work from the team as always!
Thank you all so much for your entries, it means so much to us that you join us each week....
WINNERS and TOP 3 from week 26
The WINNER chosen at random by www.random.org is:
31 ~ Tindaloo
Claims must be received by 19/7/2018 please refer to the rules st the top
Please email us HERE quoting DCW26001to claim your prize of 3 digi images from the digi store!
Allow 21 days for a response to your claim, please do not keep emailing during this time, your claim will be dealt with as soon as possible.
And in no particular order the top 3 picked by the design team....
47 ~ Desire
10 ~Jean
56 ~ Danii
Thanks again to everyone who joined us last week and we can't wait to see what you make for us this week...
Mister Linky's Magical Widgets -- Thumb-Linky widget will appear right here!
This preview will disappear when the widget is displayed on your site.
If this widget does not appear,
click here
to display it.