Welcome back to our latest Challenge &
another huge Digi Choosday deal!
Your Special discount code is
This will save you a HUGE
SELECTED* DIGI STAMPS
(INCLUDING COLLECTIONS/BUNDLES)
(* selected downloads)
*not valid in conjunction with any other offer, applies to certain products only,
if your discount does not show in the cart it is not valid for that product
THE WINNERS OF OUR LAST CHALLENGE ARE AT THE END OF THIS POST
As always, this week's challenge is
Please see the rules on the Inlinkz bar below...
Make anything you like, You can use any products you like to enter.
CLOSING DATE : 18th July 2019
PRIZE: The random winner (chosen by Random.org) will receive a voucher for 3 digi downloads from the digi store!
So lets see what our Design Team have made this week...the team was challenged to make a birthday project which had to also include some kind of envelope - they've got some wonderful ideas!...
.
..and we are also introducing our fabulous new team members Dawn, Sue

and

Vicky - we're looking forward to seeing the amazing creations they're going to make and share with us all - welcome to the team ladies!
Dawn here with my Envelope Birthday Card. For this card I have used Ruby Gift which I have coloured with my polychromo pencils. I have also used the Distress Ink Plain Papers both on the outside and inside too where you will see one of the fabulous sentiments from Winnie Celebrations Sentiments Pack 1. The Birthday Celebrations sentiment on the front is from the same pack
Mary G
The DT were tasked to create a birthday card as an envelope or including an envelope so I made a tiny paper envelope, added a note and tucked it behind the pink ribbon bow. I coloured
Winnie Big Bunch digi stamp
from the Celebrations 1 collection with Copic markers and added to a die-cut shape
Julie R - I used the delightful Hyacinth from the Darling Buds collection with Paper from the Helga Hippo collection to create my Birthday card and of course added lots of sparkle, with hearts floating out of my mini envelope.
Great work from the team as always!
Here's a selection of the products the team have used - just click the links to find them in store...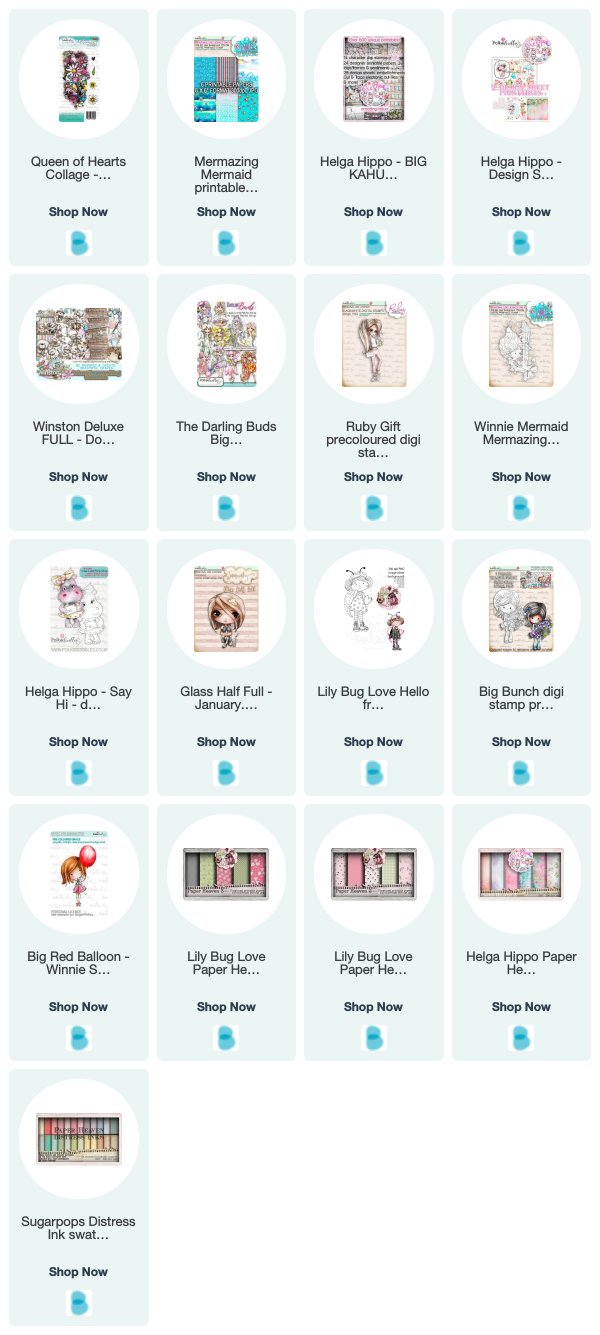 WINNERS and TOP 3 from week 26....
The WINNER chosen at random by www.random.org is:
# 6 -Nonsolocard
Claim HERE quoting DCW28001 to claim your prize of 3 digi images from the digi store!
Allow 21 days for a response to your claim, please do not keep emailing, your claim will be dealt with as soon as possible.
TOP 3, picked by the design team....
Our Top 3 also win a FREE DIGI STAMP! Whoop Whoop!
Claim HERE quoting DCW28123 to claim your prize of 1 digi image from the digi store!
Allow 21 days for a response to your claim, please do not keep emailing, your claim will be dealt with as soon as possible.
Thanks again to everyone who joined us on the last challenge and we can't wait to see what you make for us this week...
Want more chances to win Polkadoodles Goodies??
Join us on our other blogs - It's always Anything Goes!