--------------------------------------------------------------
Welcome back to our latest Challenge!
oOo--oOo--oOo
It's Digi Choosday again!
Your Special discount code today is....
February
This will save you a huge
22%*off digi stamps
expires midnight today!
(kits not included)

selected downloads*
Just enter the code in the shop
HERE....
*(not valid in conjunction with any other offer, applies to certain products only, if your discount does not show in the cart it is not valid for that product)
oOo--oOo--oOo
We have lots and lots of new items in the Polkadoodles store... check out all the latest kits & dies which have just arrived!...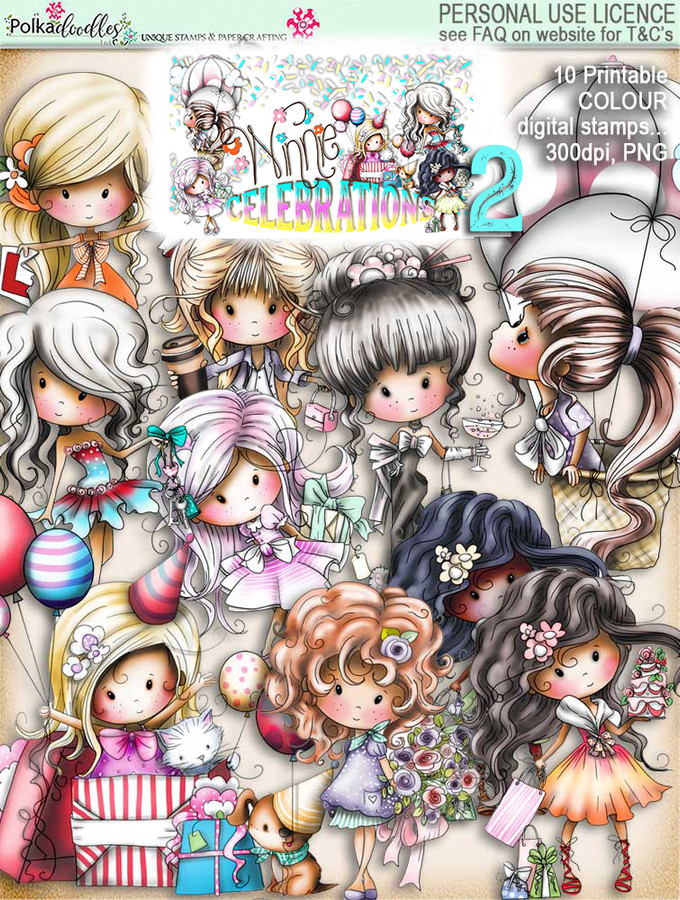 Fantastic new Dies, stamps, printables and papers to get your mitts on - don't miss them!
As always, this week's challenge is
ANYTHING GOES
Make anything you like, You can use any products you like to enter.
We don't have many rules but check them out in the top bar if you need to.
CLOSING DATE :13th Feb 2018
PRIZE: The random winner (chosen by Random.org) will receive a voucher for 3 digi downloads of your choice from the digi store!
We also have a special surprise for you this month!...
....the amazing girls over at The Ribbon Girl are also sponsoring a stunning prize for us during February!
Everyone who enters the challenges from now until the end of this month will be entered into a special random draw to win this amazing Ribbon Girl stash!
Thanks so much Ribbon Girls!
(Rules: A random winner will be shortlisted from each Digi Choosday and Polkadoodles challenge by Random.org. Those shortlisted will then be combined into a final draw and a final random winner selected by Random.org).
Winner will be announced on this blog and the Polkadoodles blog in March.
So lets see what the Design Team have made this week....
Yvonne - For this weeks challenge I decide to upcycle a plain old boring candle to something better. I used the 'Serenity' Collection. You can find the collection here. I used the precolured image of 'Serenity Joyful' which is a precolured image on the main collection but if you want to colour her yourself, you can find her as an individual stamp here.
Katrina ~ I chose to recycle an old CD case. It now holds a couple of miniature layouts for my son-in-law's desk! These cute papers, sentiments, speech bubbles and pre-colored digis all from Little Monsters made the perfect digital piece! Heart border was created from hearts in Love & Kisses.
Rose I have decided to use an old pic frame, which I will give my mother in law for her birthday ... I created the card and mounted on it ...it opens front ..where i will write the message and place a gift card. For this project I have used digital image Winnie Sugar Sprinkles Springtime - Love You Mum together with digital papers from Work-Play-9-Love-Kisses Collections i love this collection of papers so much ... perfect for all occasions.
Ine
I used for recycle some old design paper and a digi from the lovely precoloured sheet of the Hyacinth Darling Buds...
Julia I raided my box of " I could do something with that" and pulled out some things to recycle .. I Used a couple of box lids to create a shadow box, and then some broken bits of jewellery as embellishments. I also went through my stash of leftover papers from previous polkadoodles makes. These papers have come from the Winnie In Wonderland collection. Full details on my blog.
Great work from the team as always!
Thank you all so much for your entries, it means so much to us that you join us each week....
WINNERS and TOP 3 from week 4
Claims must be received by 16/02/18, please refer to Challenge rules at top of blog.
The WINNER chosen at random by www.random.org is:
29~ Louise
Please email us HERE quoting DCW040001 to claim your prize of 3 digi images from the digi store!
Allow 21 days for a response to your claim, please do not keep emailing during this time, your claim will be dealt with as soon as possible.
And in no particular order the top 3 picked by the design team....
12~ Astrid
18 ~Mindy
42~ Lynsey
Thanks again to everyone who joined us last week and we can't wait to see what you make for us this week...
Mister Linky's Magical Widgets -- Thumb-Linky widget will appear right here!
This preview will disappear when the widget is displayed on your site.
If this widget does not appear,
click here
to display it.